Wicked3D™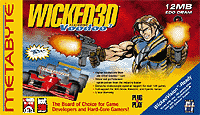 In the 1990s, we pioneered 3D graphics driver optimization technology and invented 3D stereoscopic technology.
We funded the development of these concepts and launched a product division branded as Wicked3D which delivered an unprecedented immersive experience for 3D game playing.

Wicked3D gained tremendous traction with PC gaming enthusiasts, and won Editor's Choice awards from magazines like PC Gamer and Computer Gaming World.

Our Wicked3D products were sold worldwide by national distributors like Electronics Boutique in the US, Dixons in the UK, and regional distributors in Germany, France, Spain, Italy and Japan.